J.W. Speaker SMT Building
The JW Speaker Corporation designs and manufactures high performance LED lighting technology for automotive, powersports, and industrial markets worldwide. In 2009 TKWA designed a 180,000sf state-of-the-art corporate headquarters and manufacturing facility, and in 2012 completed renovation of an 80,000sf secondary manufacturing facility located nearby. By 2017 continued growth in demand for advanced circuit board technology products prompted the company to plan a new facility dedicated solely to design and production of these specialty components.
In creating the new 52,400sf SMT (Surface Mount Technology) Building the company wished to provide a technologically sophisticated, yet appealing workplace environment that continued the precedent established by their previous facility improvements. JW Speaker Corporation places a premium on offering high-quality and inviting work spaces that reinforce their inclusive corporate culture. Importantly, these spaces help attract and retain the high quality and dedicated staff needed for continued growth and success.
LOCATION
Germantown, WI
SCALE
52,400 sf
STATUS
Completed 2019
The design of the SMT Building reflects the modern industrial aesthetic established by the corporate headquarters while creating its own identity within the campus. The energy efficient design features abundant natural daylight for both office spaces and in manufacturing areas where quality of lighting is critical. Tilt-up concrete walls provide greater thermal mass to reduce building temperature fluctuations. Large steel sunshades reduce solar gain. Native plantings attract wildlife and reduce site stormwater runoff. Three north-facing clerestories introduce natural light into the interior of the production space.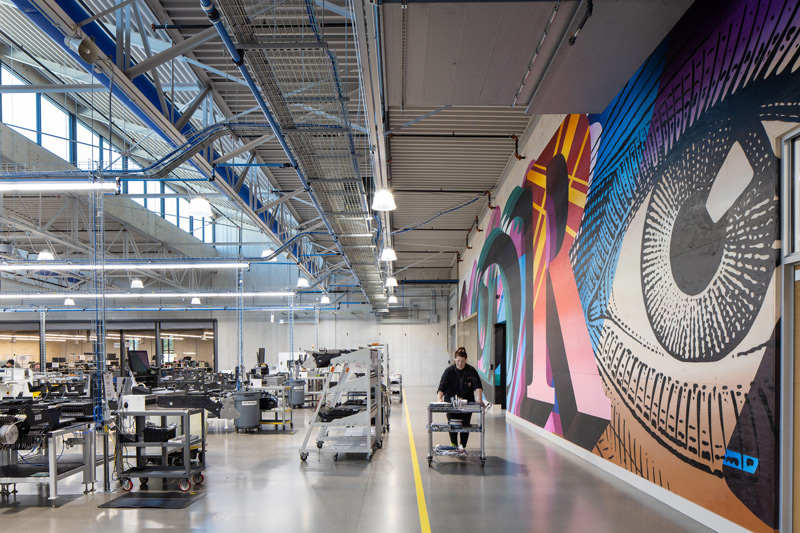 A unique design element to the project is the inclusion of large, colorful artist-painted murals along the entire south wall of the production hall and near the employee cafe. Commissioned by the owner these murals add vibrance and energy to the space.
The selected location for the new SMT building was on a large tract of semi-rural land that currently contained the corporate headquarters. TKWA was asked to prepare a master site plan for the long-term development of an integrated corporate campus with opportunity for future expansion of both the building and of potential additional facilities.
—